Restriction: Work with your non-dominant hand in a medium you are familiar with.
Well, I know how to use a pencil, right? How hard could it be to draw left-handed in really large scale?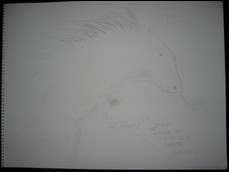 TURNS OUT: Really freakin' hard! I'm not great at sketching in the first place, and this made it almost impossible; already know from drumming that my left hand is only a machine of brute force, not of any intricate manipulation.
---