Jason, Amber, and I just got back from an epic 2-week road trip.
I took a lot of photos. Buckle up or scroll at random.
Pre-trip art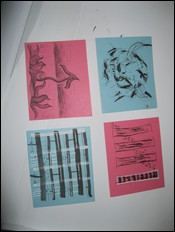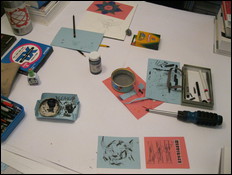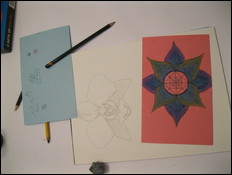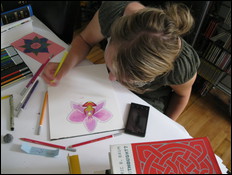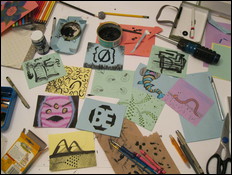 The kitchen will probably never be this clean again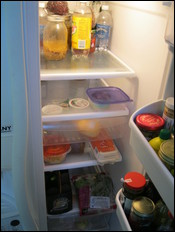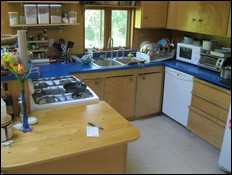 Last shot of the piano before it goes away while we're gone…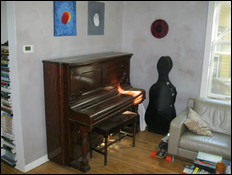 Our stuff crammed in the Scion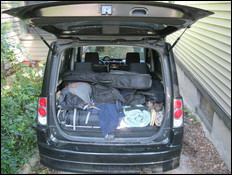 First super-exciting stop: GAS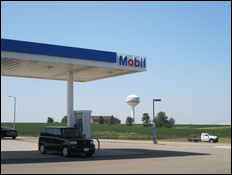 Crazy head removal device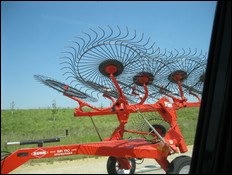 First actual stop: Ames, Iowa to visit Amber's friend Teagan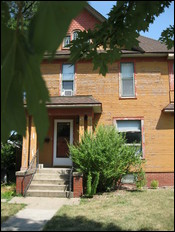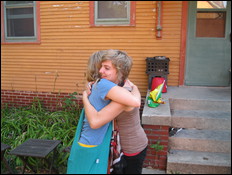 Windmill arms are HUGE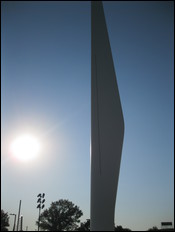 Jason is crazy for POTATO OLES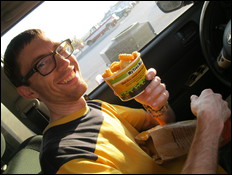 After driving for an entire day through Nebraska, we reach Colorado and I may have gone SLIGHTLY MOON-CRAZY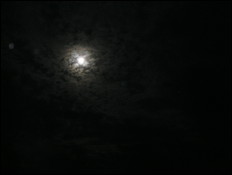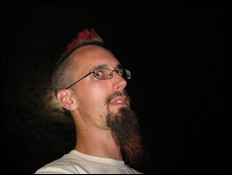 We crashed near the "Catastrophe Restoration". Fitting. We also ate apples for breakfast from their trees.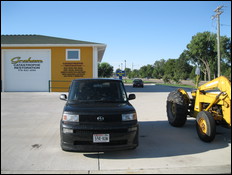 "Tank n' Tummy" just seemed like a weird name for a gas station. Also notice the car wash with SOFT WATER.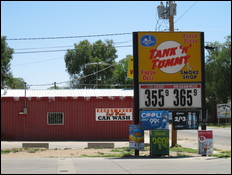 Stickin' the camera out the window at a huge Colorado sky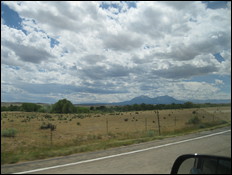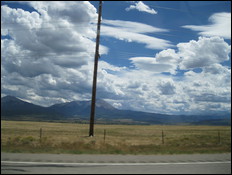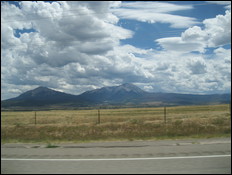 First glimpse of the GREAT SAND DUNES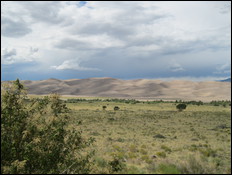 "Why is there water in my peanut butter and sand in my nuts?"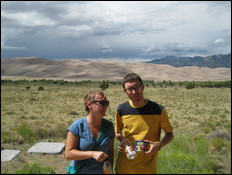 Yaaaay sand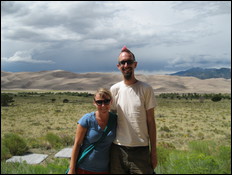 We hike our way out onto Tatooine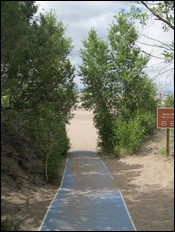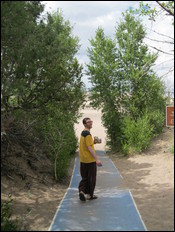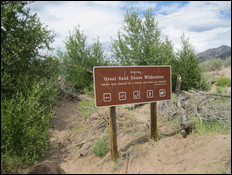 That's a lot of sand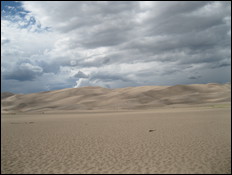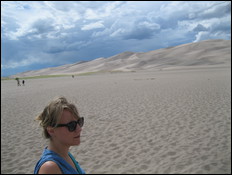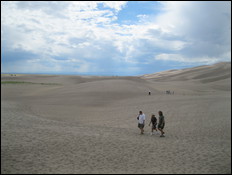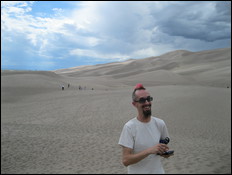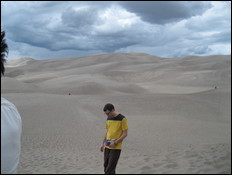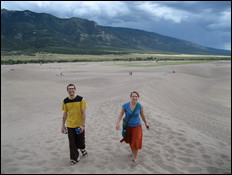 Neato sand beetle! (Click to make it huge, these photos turned out WAY COOL)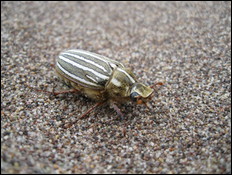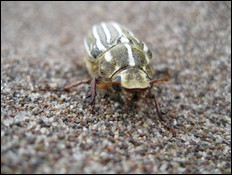 Bowl of sand in the mountains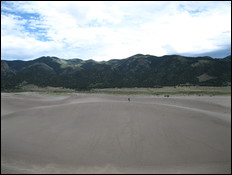 Sand made me kind of crazy (crazier?)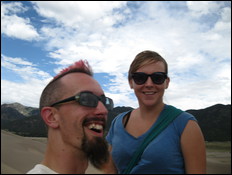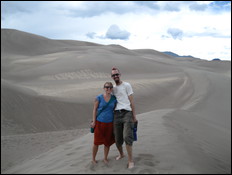 Jason went rolling down the hill, and Amber followed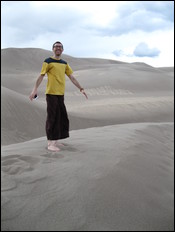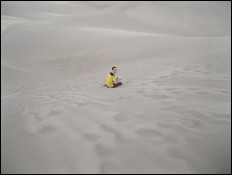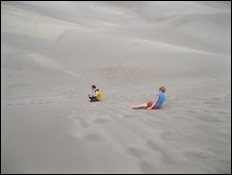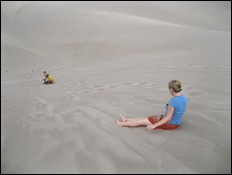 Sky and sand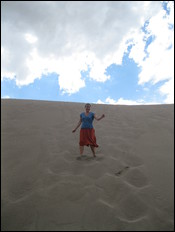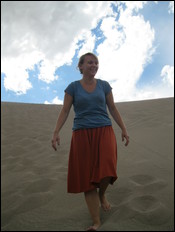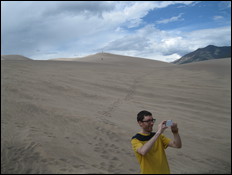 Footprints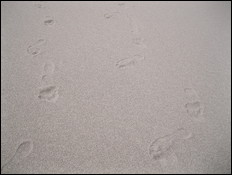 Distant hikers for scale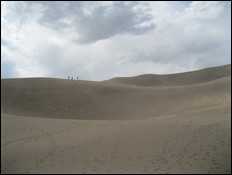 Sand stances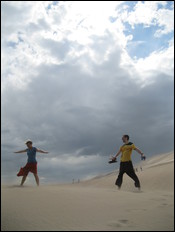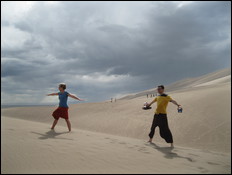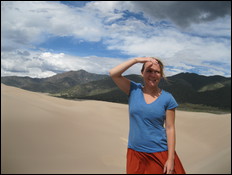 Jason trying to take a picture of the bottom of his foot for some reason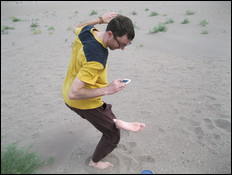 A storm rolls in across the miniature desert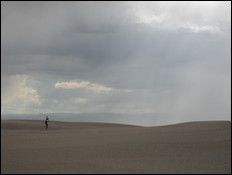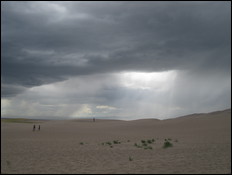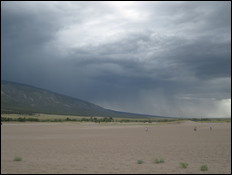 Amber's ear the next day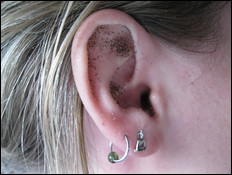 Stopping at some random scenic spot in the Rockies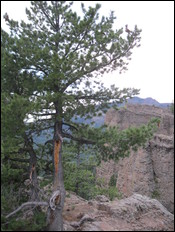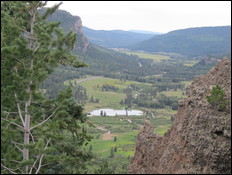 Climbin' over some rocks that were supposed to keep us out of trouble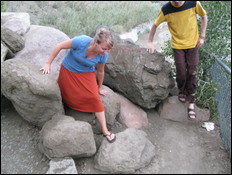 The view out onto the lake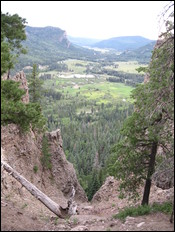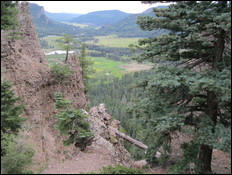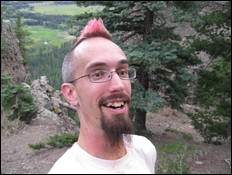 Something was hilarious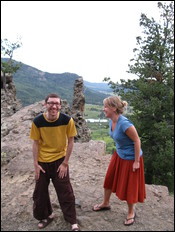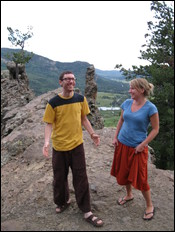 Staring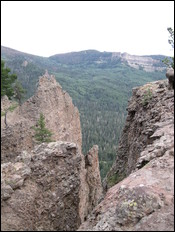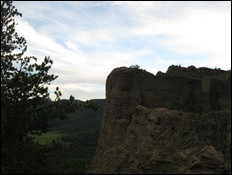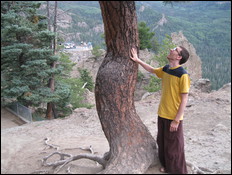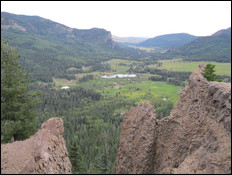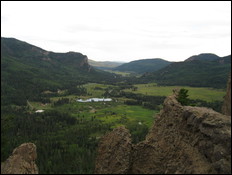 Leaving some temporary rock art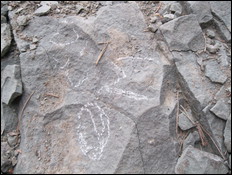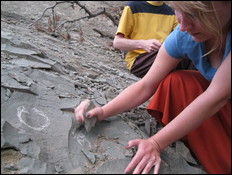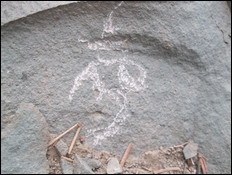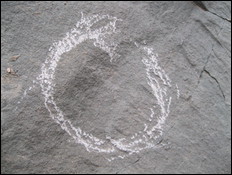 Colorado sunset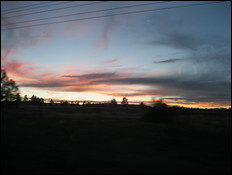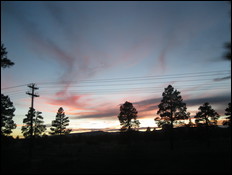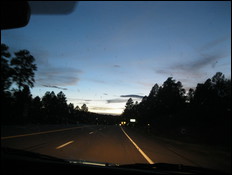 ---
Then, we reached Utah the next day.
Photographer in the frame: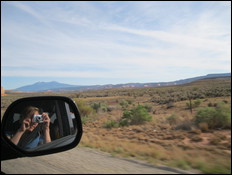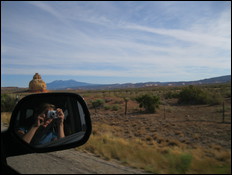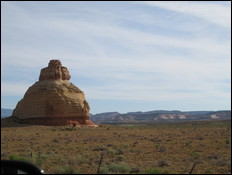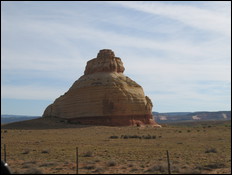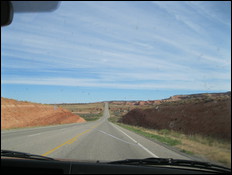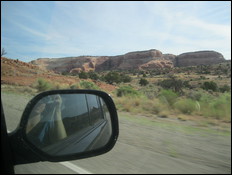 Dwarfed by some arches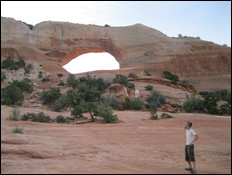 Fun with sandstone
Things that grow in the desert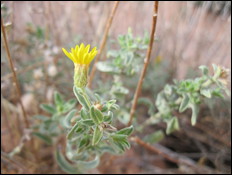 Towers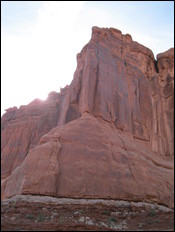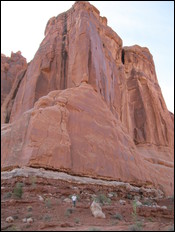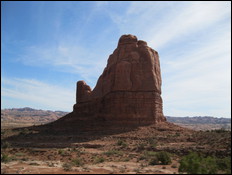 Staring at the signs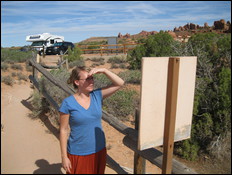 Lizard pals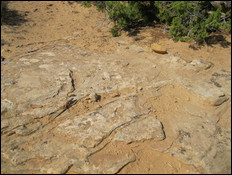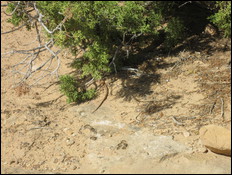 ROCKS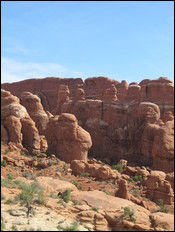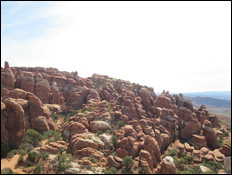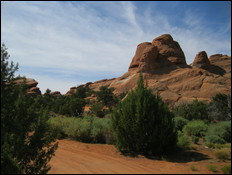 Hiking up into the arches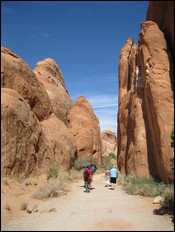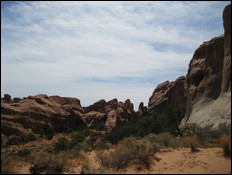 Another gecko friend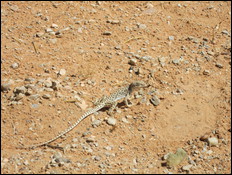 A neat tree and Jason's method of protecting his neck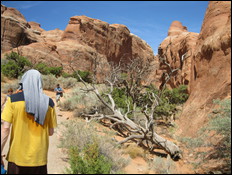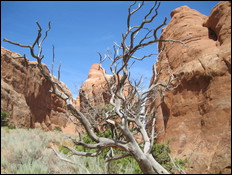 Through the window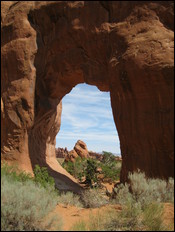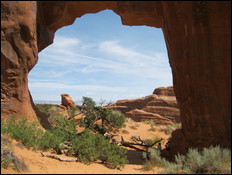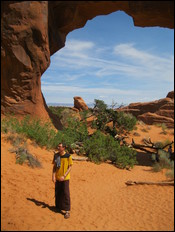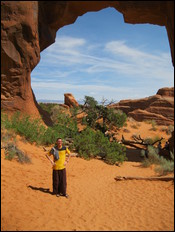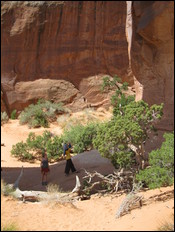 Hiking onward!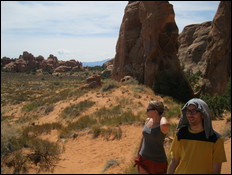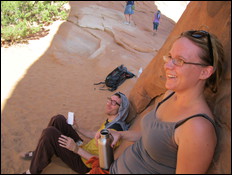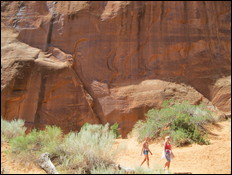 There were a lot of rocks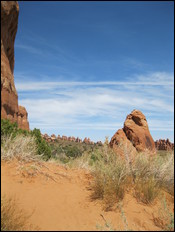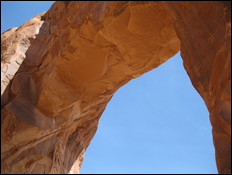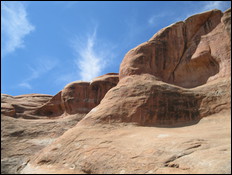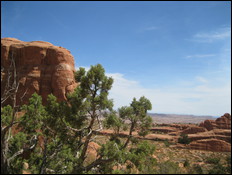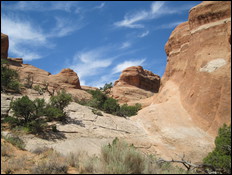 And quite a few other tourists…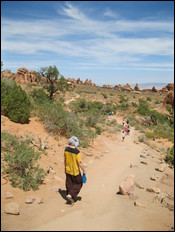 Approaching the big arch thing whose name I can't remember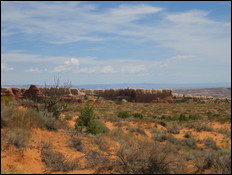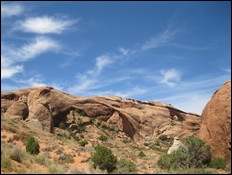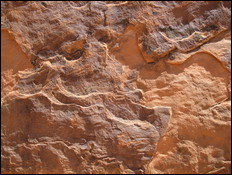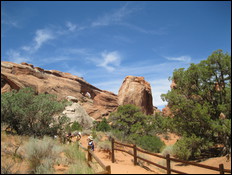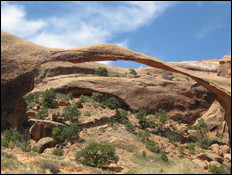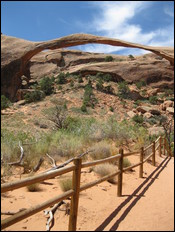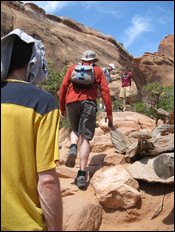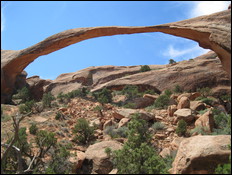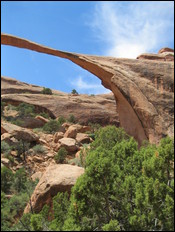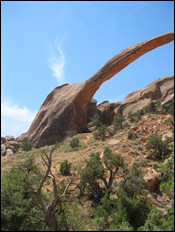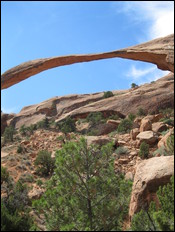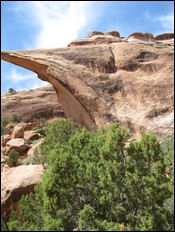 On the way out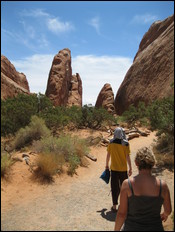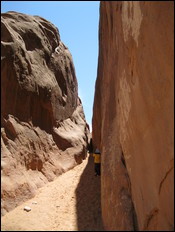 ---
Jason pulls over at the side of the road in Utah to try to gather some gypsum crystals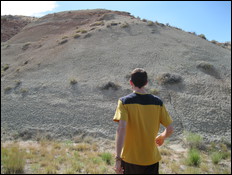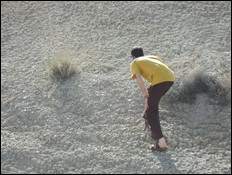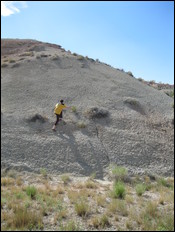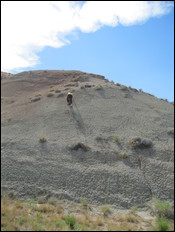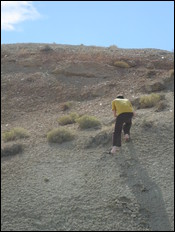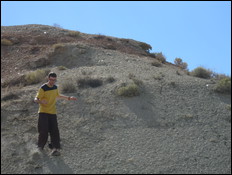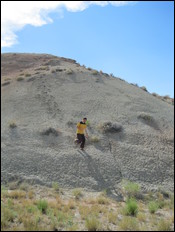 Immediately after this picture he threw them out the door, voting them NOT COOL ENOUGH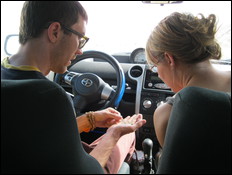 What it is like in the back of the Scion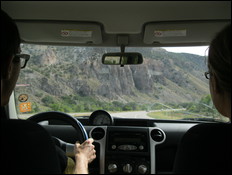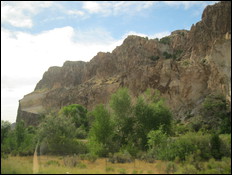 Cleanin' dem bugs off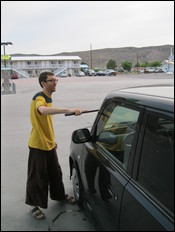 Dinosaur keeps watch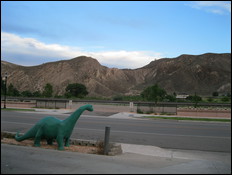 Stopping for an amazing sunset when we reach Nevada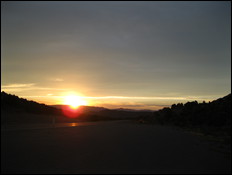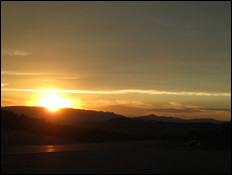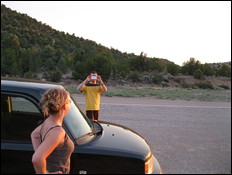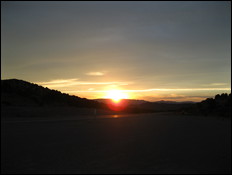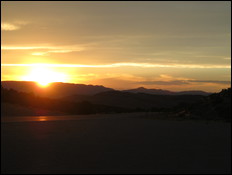 Cameras just couldn't capture this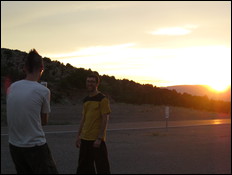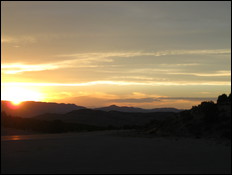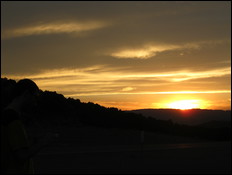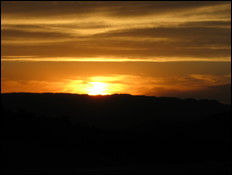 Getting a better vantage point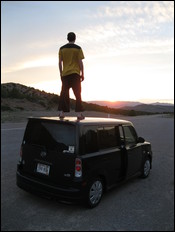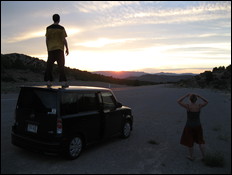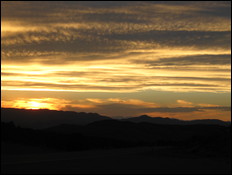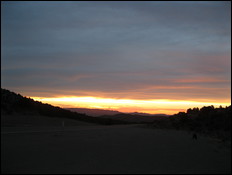 The next morning, driving on into Nevada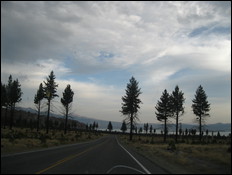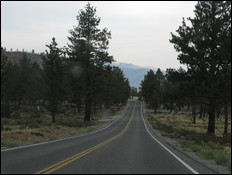 I am easily fascinated by the sky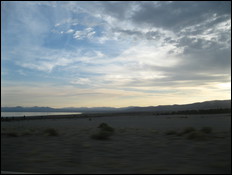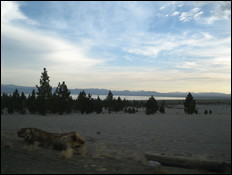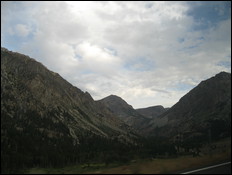 Like I said, easily fascinated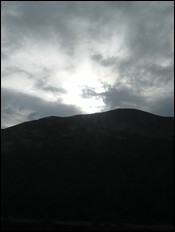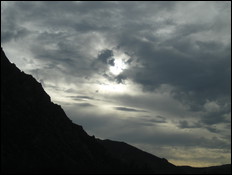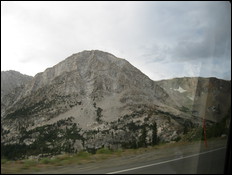 Up the pass into Yosemite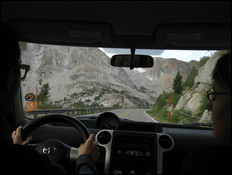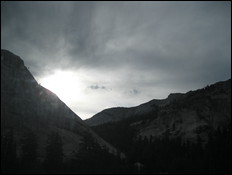 Stopping for some pictures in the starkness of Yosemite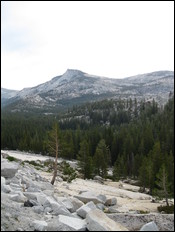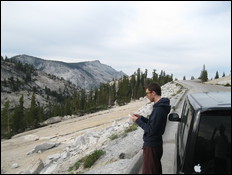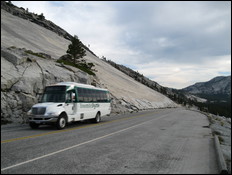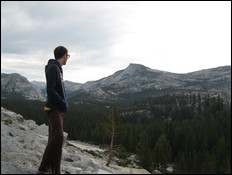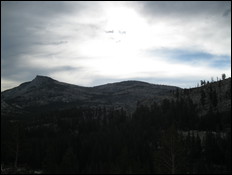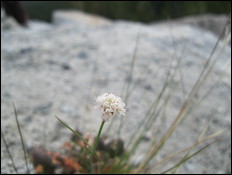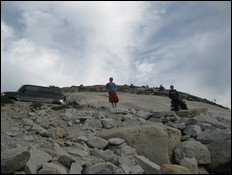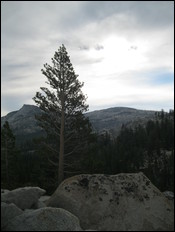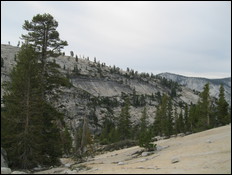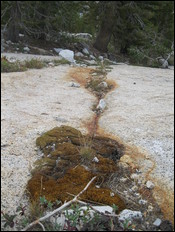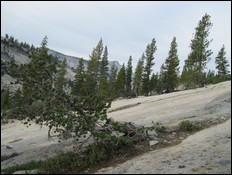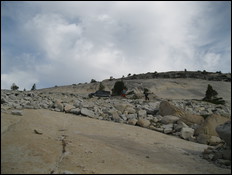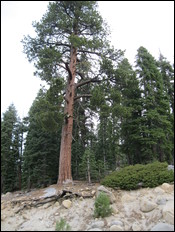 Outside the grossest gas station restroom in California, some pretty flowers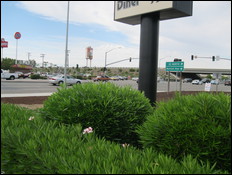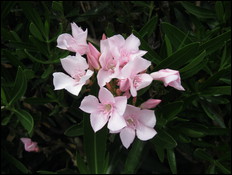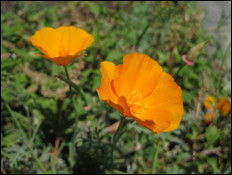 ---
Kind of a blank spot here where Jason and I went to Gavic's wedding and I forgot my camera. Have a few blurry shots on my phone that I am too lazy to paste in here. It was up in the redwoods and super lovely to see everyone.
---
Trying to find a parking spot in Santa Cruz, Jason drives around the block and I get to capture the Scion in Action Mode: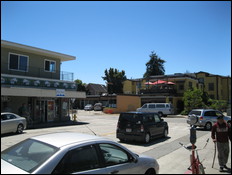 The next day, Jason deposits Ryan's book at the Insight Meditation Center in Redwood City: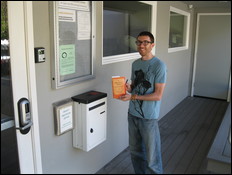 And meditates under the bodhi-like tree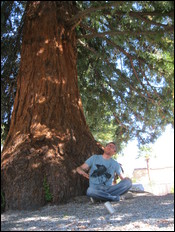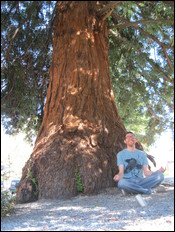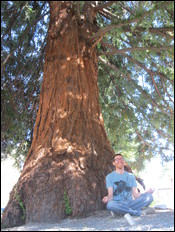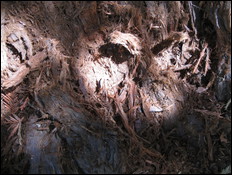 After we sat for a bit outside the center, a friendly fellow whose name I painfully cannot remember had us in for a tour of their space: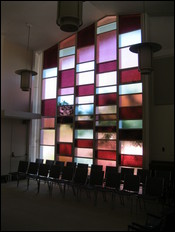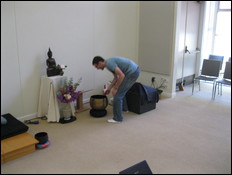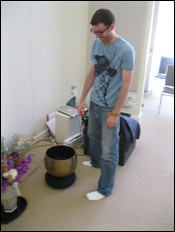 Passing through San Fran's finest concrete abominations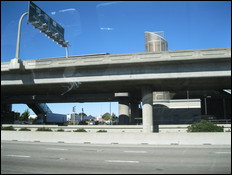 Grafitti in the park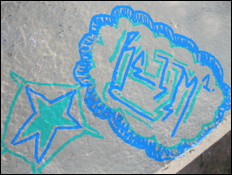 Hiking through the park to meet up with SF friends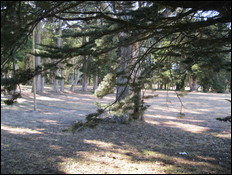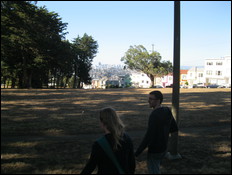 AND SUDDENLY, Grateful Dead tribute band and tons of hippies. Yup, San Francisco is pretty predictable sometimes.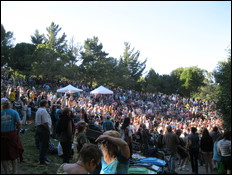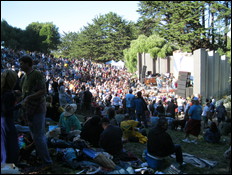 The hill over the city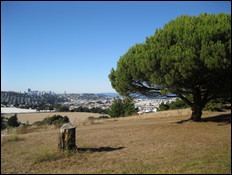 Deep chats in the forested park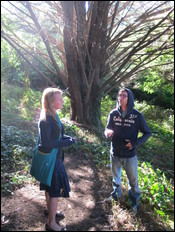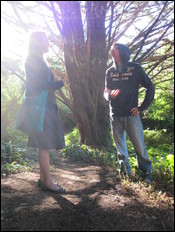 Cool Mexican place we ate at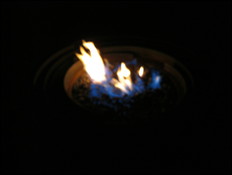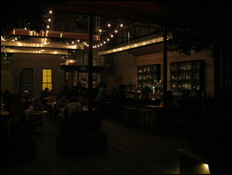 Jason for some reason needed this picture: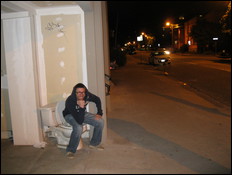 The place we stayed at in Berkeley was lovely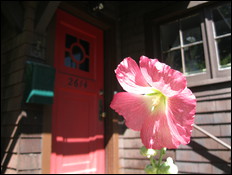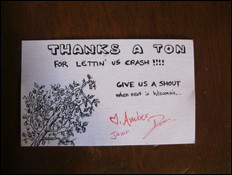 Over the Bay Bridge into SF proper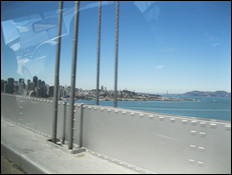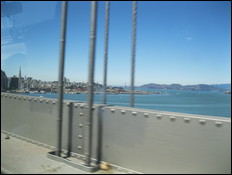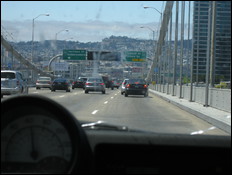 We did not have time to stop so we rolled on through…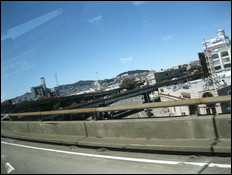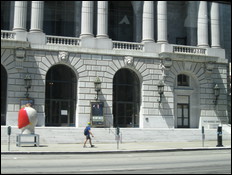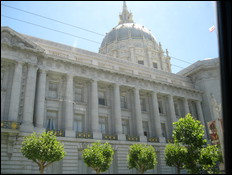 To the Golden Gate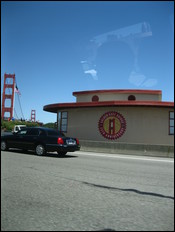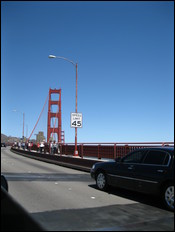 And into the redwoods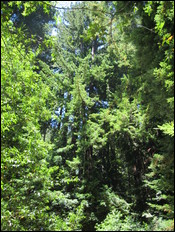 MAP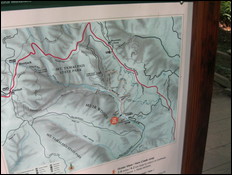 TREES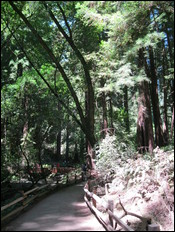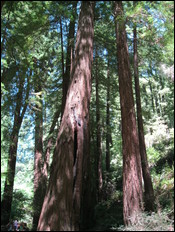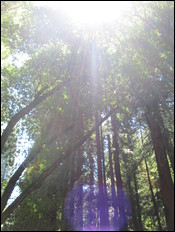 Loving the trees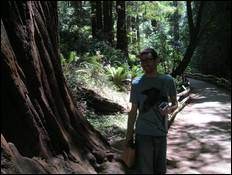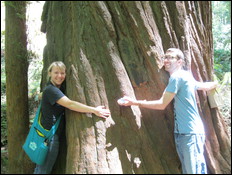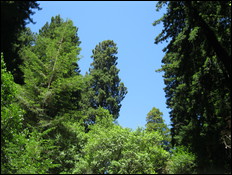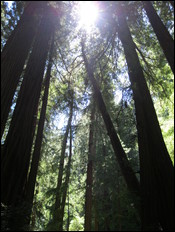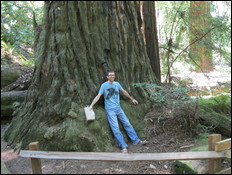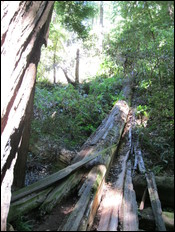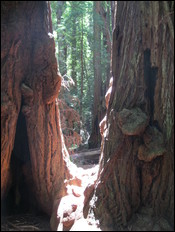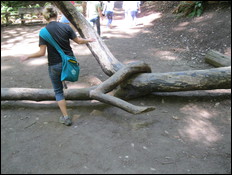 There are neat other plants too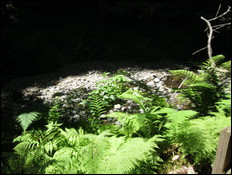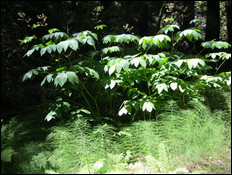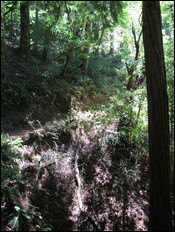 Heading into the hills above the redwoods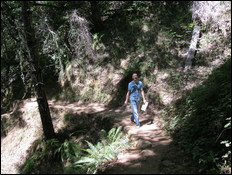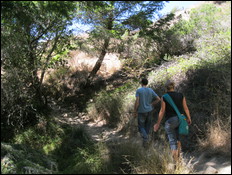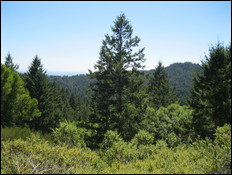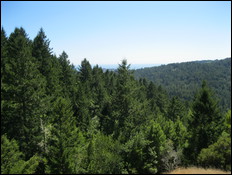 Hot hike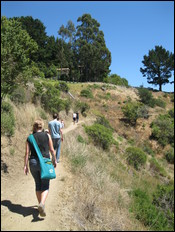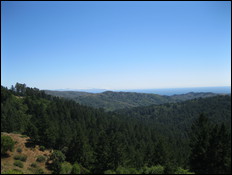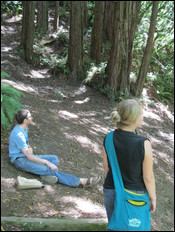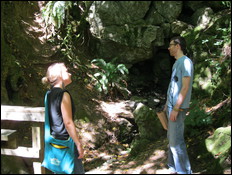 Driving down the coast
Stopping for some pictures and fresh air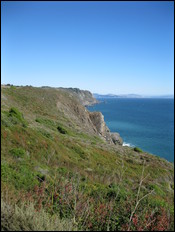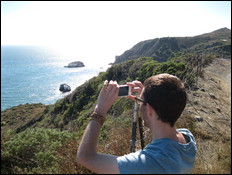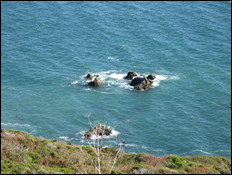 Hittin the beach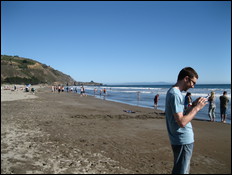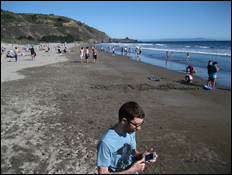 After driving a while, it got pretty cold by the ocean but we still wanted to try to camp on a beach.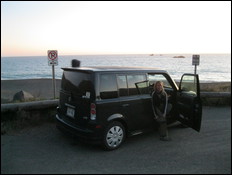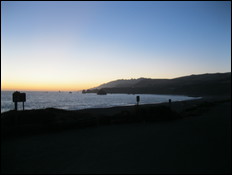 So we set up behind a nice rock wall where there didn't seem to be any no camping signs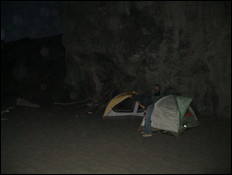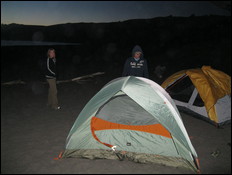 Click to make this one bigger and notice warnings 3 and 6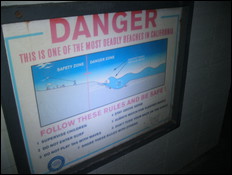 BUT THEN we unfortunately got kicked off the beach by a park ranger. Living the hippie dream was denied us and we had to go to a lame campground.
Exhaustion after setting up the tents, tearing them down, and finally setting up in another crappy campground instead of the beach.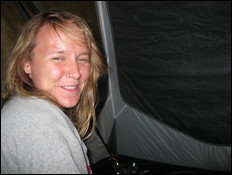 The stupid bird that woke me up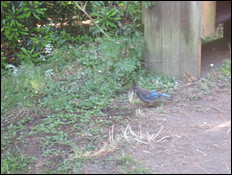 Tents in the grass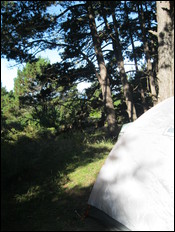 Amber's tetris job is pretty impressive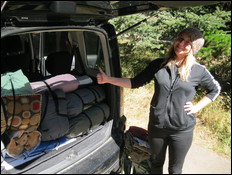 For some reason a peacock lived at this campground and came up to us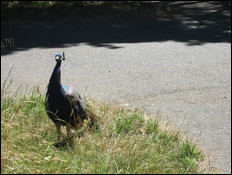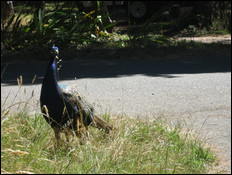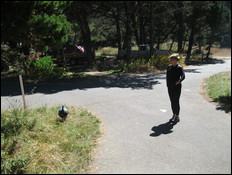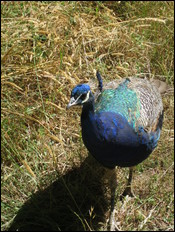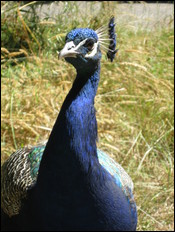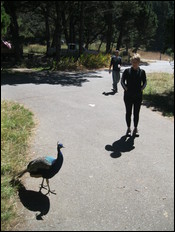 Me kicking at the peacock so it doesn't give me a peacock disease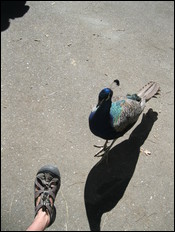 Wooo nature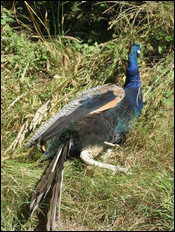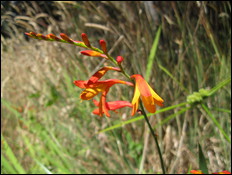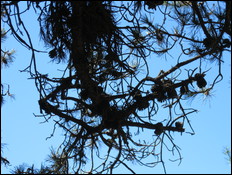 More crazy ocean shots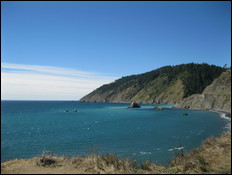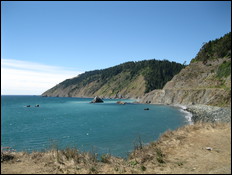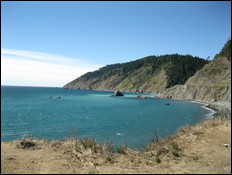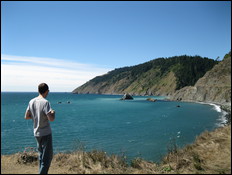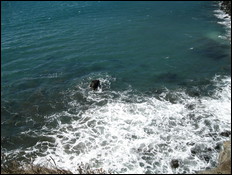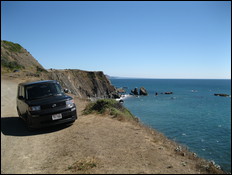 The goofy tree you can drive through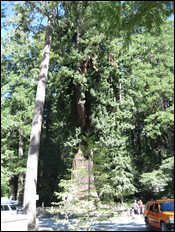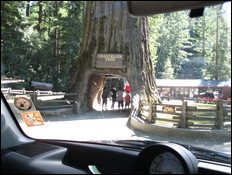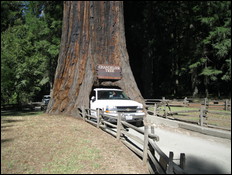 Jason liked the pond nearby and its frogs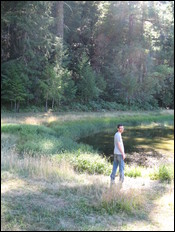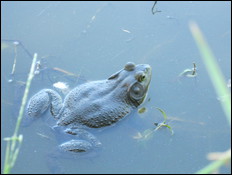 And then yes, we did drive through the dang tree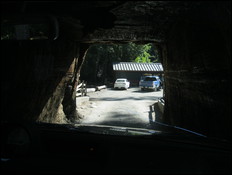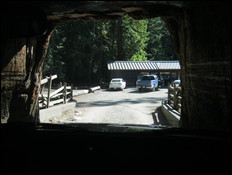 That night we camped in the redwoods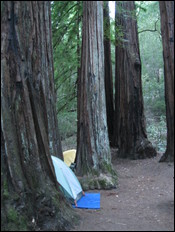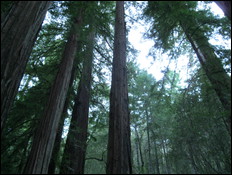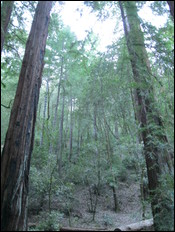 And did a bit of hiking and staring up at the trees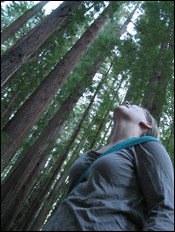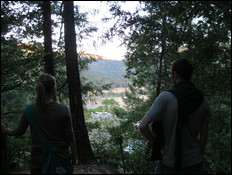 Driving hilarity (and mess)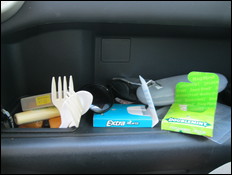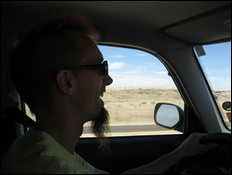 Still love the sky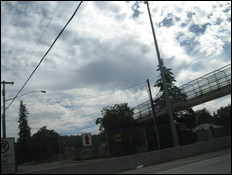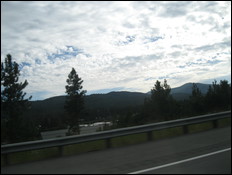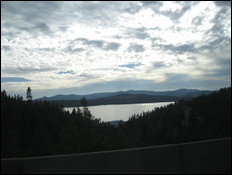 Are you mindful?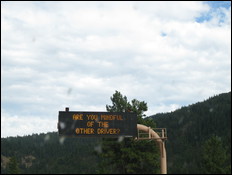 Long road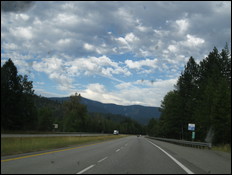 Witty political commentary on Ayn Rand at the rest stop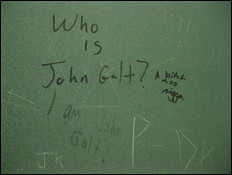 Did I mention we did a LOT of driving?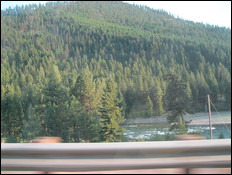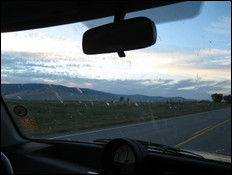 Anyone want to buy a gas station?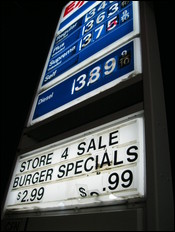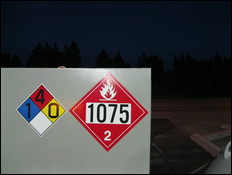 Juxtaposition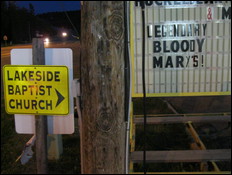 Jason bought a Powerball ticket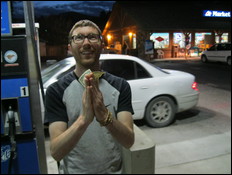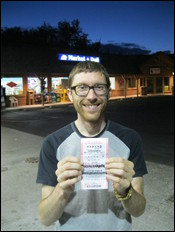 Down a scary night trail in Glacier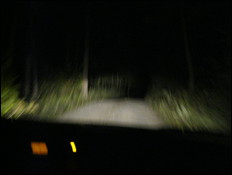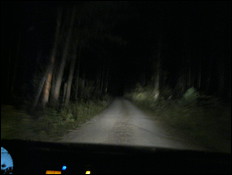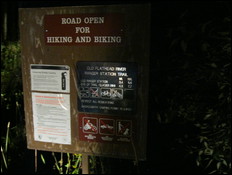 The next day, hiking up and over the ugly mountain north of Lake MacDonald in Glacier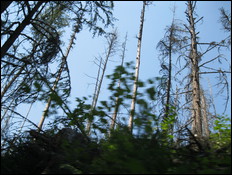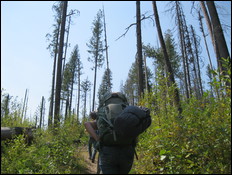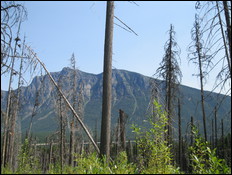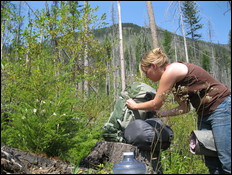 Proud of grapes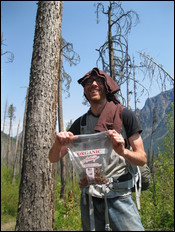 Not even 10 minutes on the trail and we spot a black bear.
Jason was leading, and his nonplussed "There's a bear on the trail guys" cracked us up pretty good. Also we didn't get eaten. Yay!
Couldn't get a very good photo though, time to play Where's Waldo: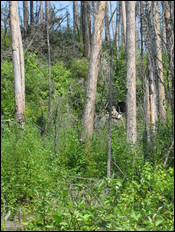 Continuing onwards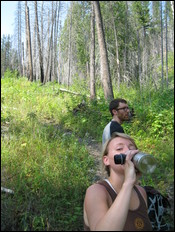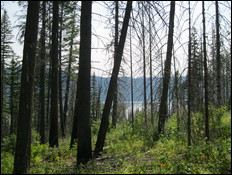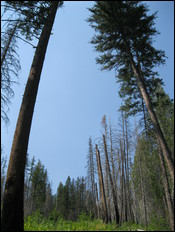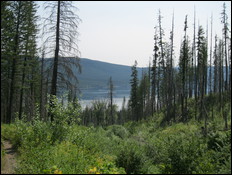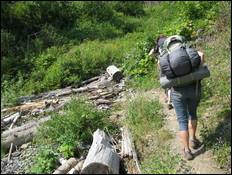 Farting with focus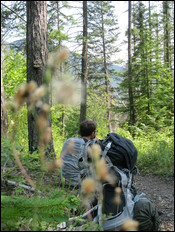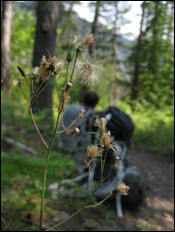 Can I eat it???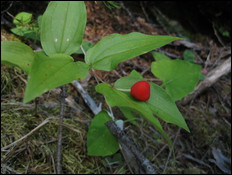 Branchy tangles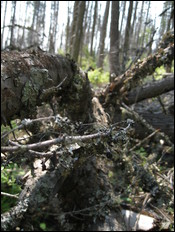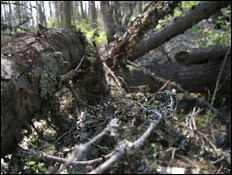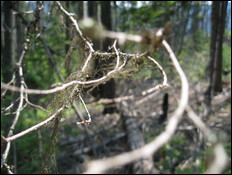 Hike on, and on, and on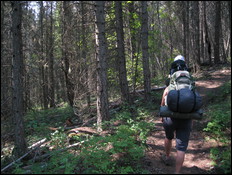 Lots of trees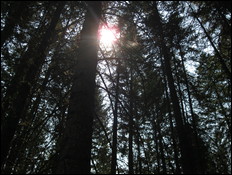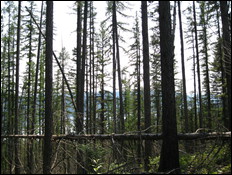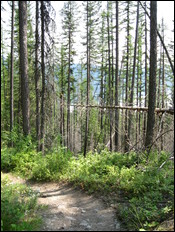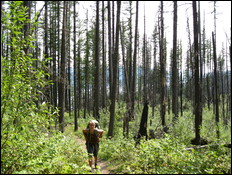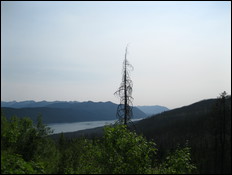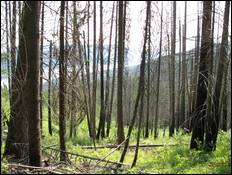 Self portrait of a tired hiker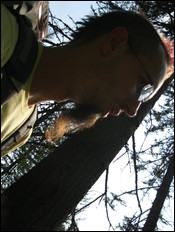 Onwards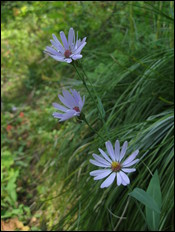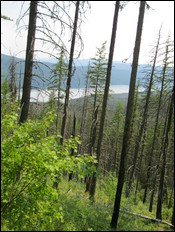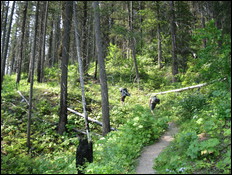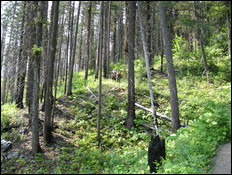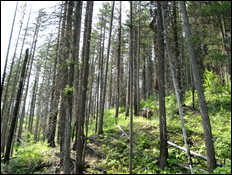 Somehow my pack is not soaked through with sweat yet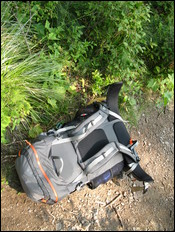 Jason saying "FML"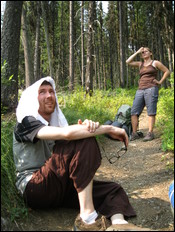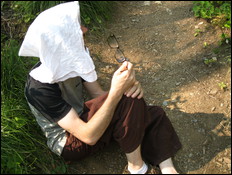 But he hikes on nonetheless, the promise of pretty lakes ahead!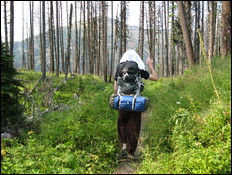 NATURE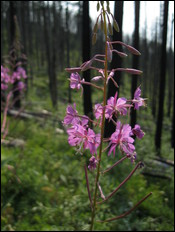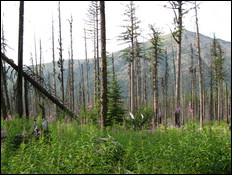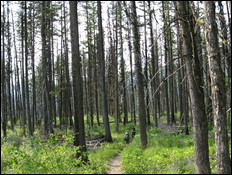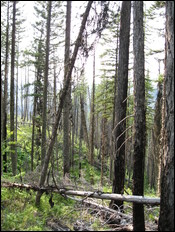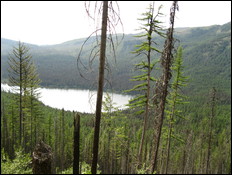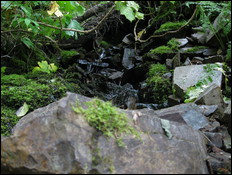 Jason is dead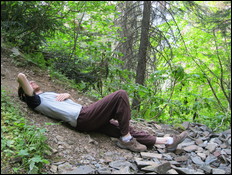 Recovering at the side of the trail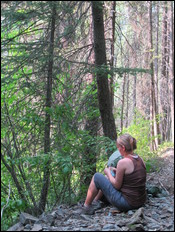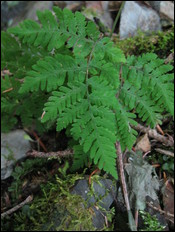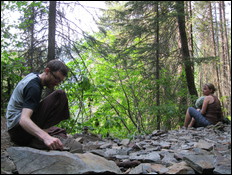 We finally reach Trout Lake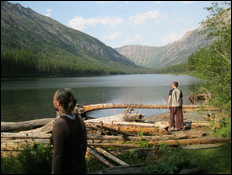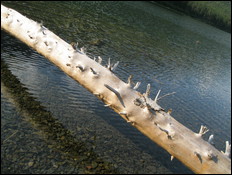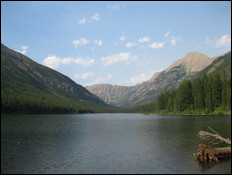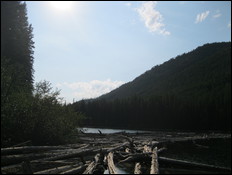 Reflections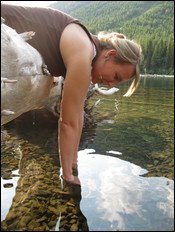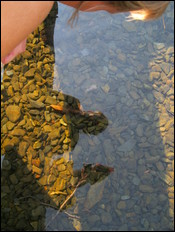 Postcards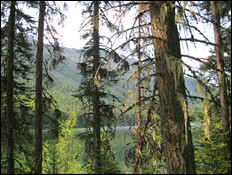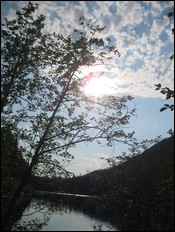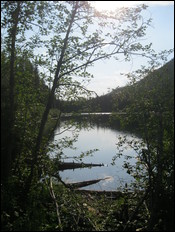 Onward, yet more!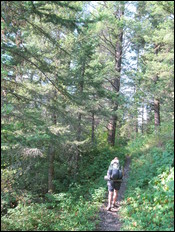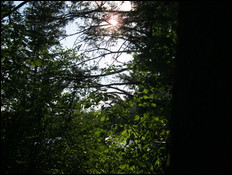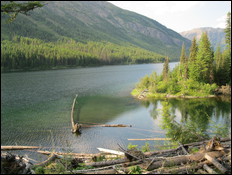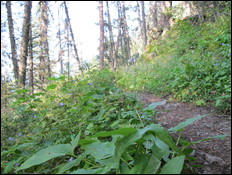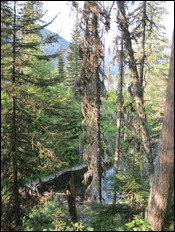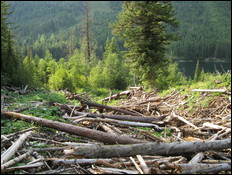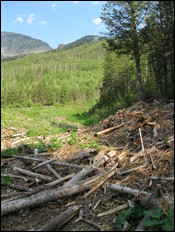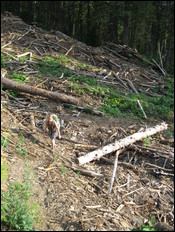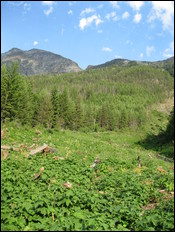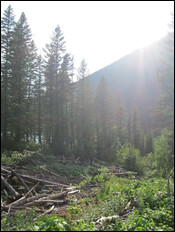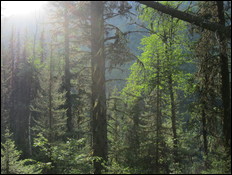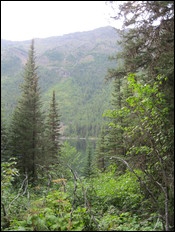 Okay seriously this place is big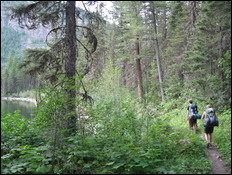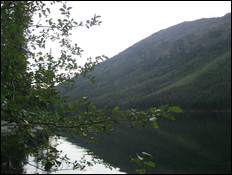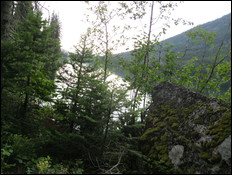 Neat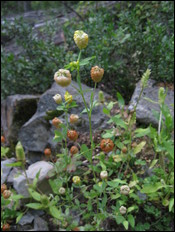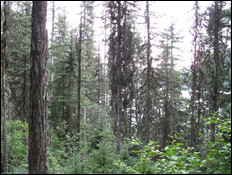 Hiking hiking hiking hiking hiking hiking hiking hiking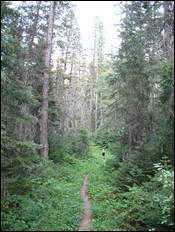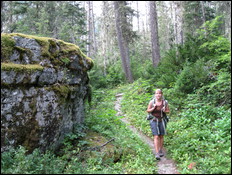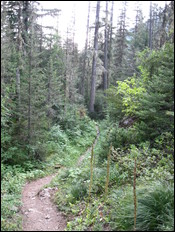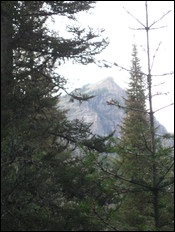 OK sheesh break time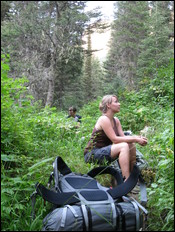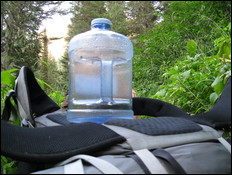 The sun is starting to set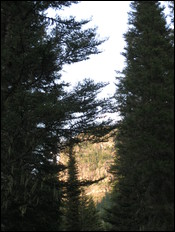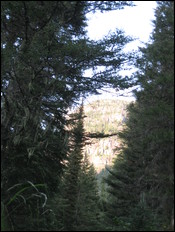 Down to the mountain stream's shore to get some water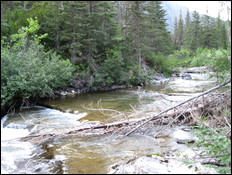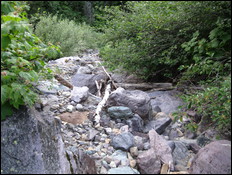 Through the valley of green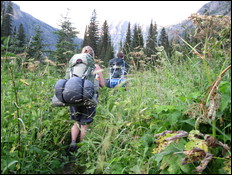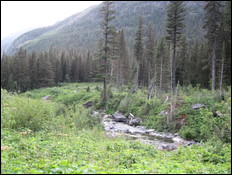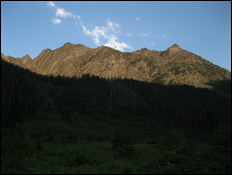 Reaching Arrow Lake, our destination, just at dusk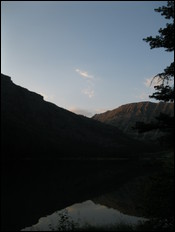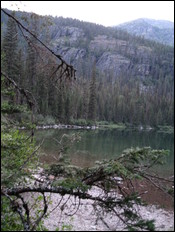 The totally amazing knot that holds our food up in the air where only flying bears can get it, and the very proud knotters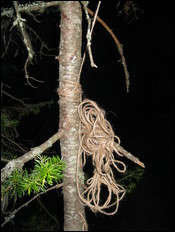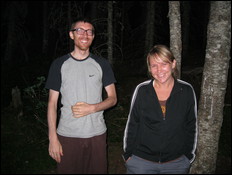 Weird tree by our site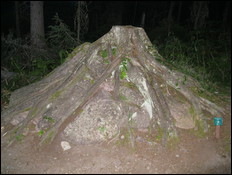 Waking up in the morning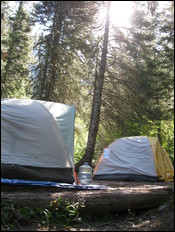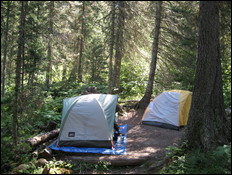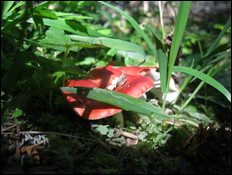 Shadows on the lake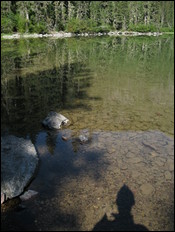 Pretty decent place to wake up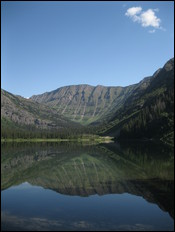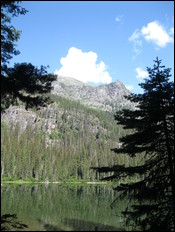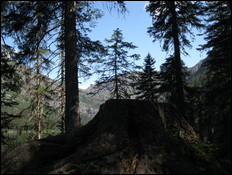 Coffee and breakfast (beef jerky is an important food group)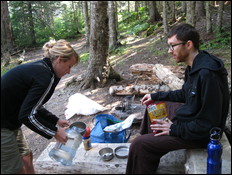 Jason is a tree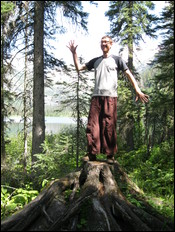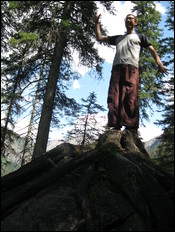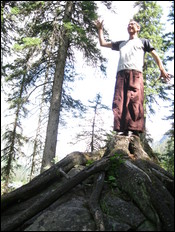 More postcards of the lake before we leave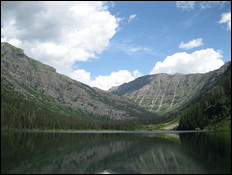 Along the shore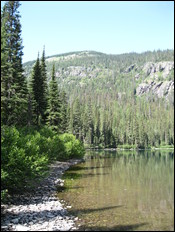 Self portrait and sky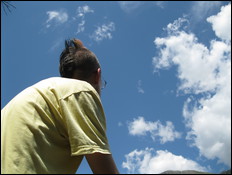 Self portrait and peace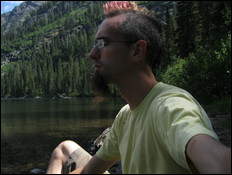 Morning meditation by the lake (disturbed by chipmunk)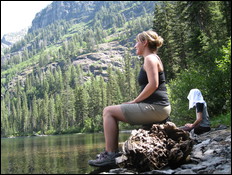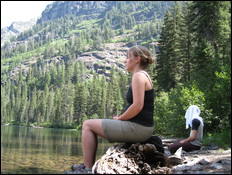 Flowers n' bugs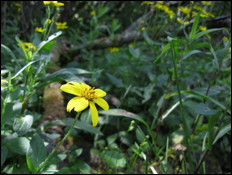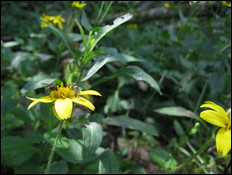 The last shot of Arrow Lake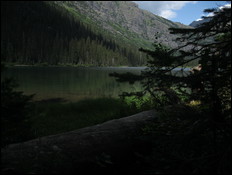 Hiking back out through the Valley of Green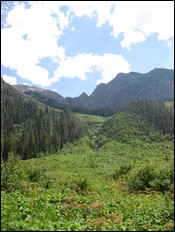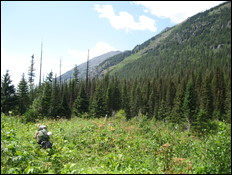 I took a picture of some rocks?? I don't know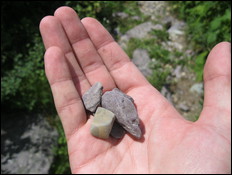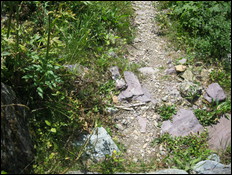 Jason pointing towards the better water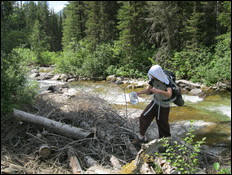 Trail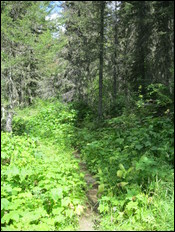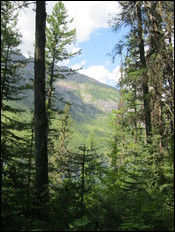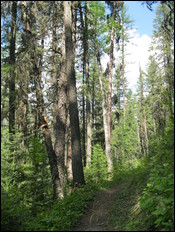 Tired feet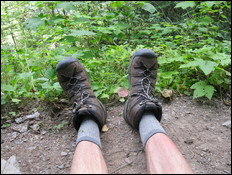 Stopping at Trout Lake for a swim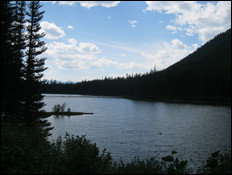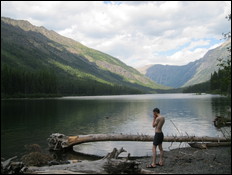 Trees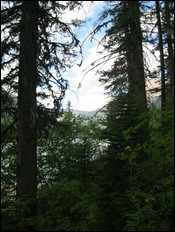 By the lake (we saw a black ferret here but I failed to get a picture of it)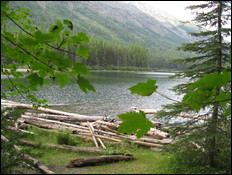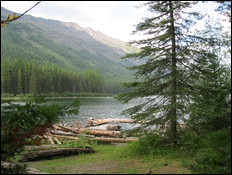 Goodbye Trout Lake!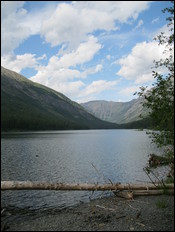 Hike on!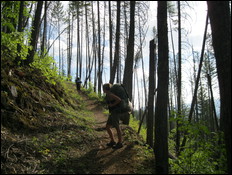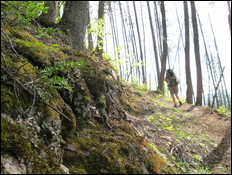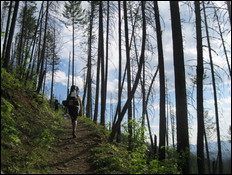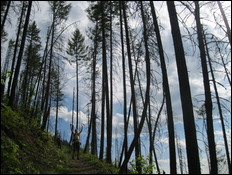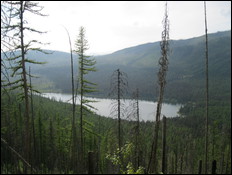 Awww garsh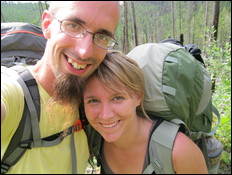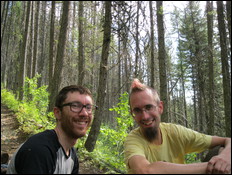 Does this mountain ever end?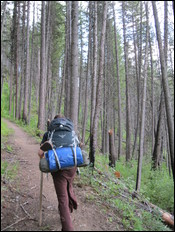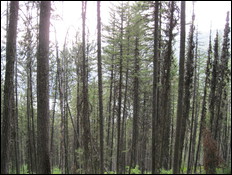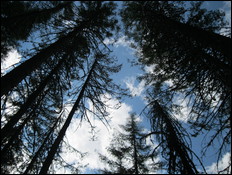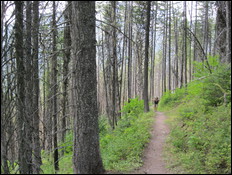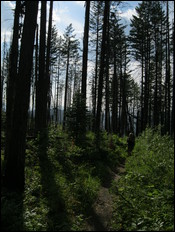 SERIOUS FACE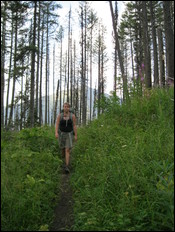 LESS SERIOUS FACE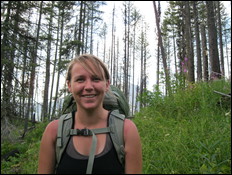 Jason dropped his energy bar and made a poop joke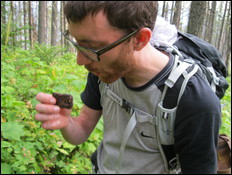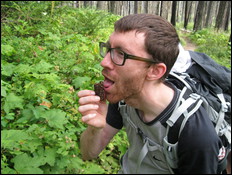 And then we kept hiking WHAT A SURPRISE!!!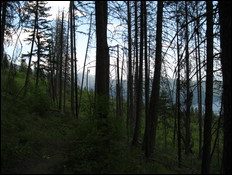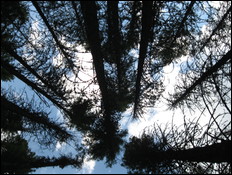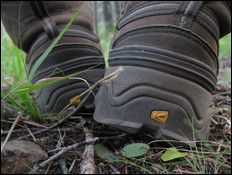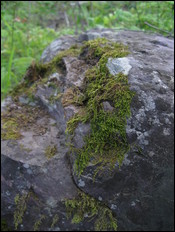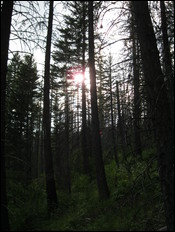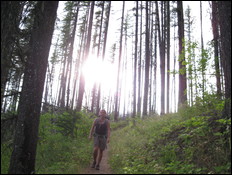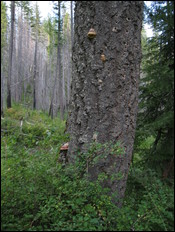 ---
Okay, now, this next one you may need to click on to see. There's a bear face down there! A grizzly bear face!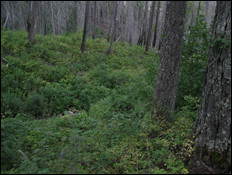 The grizzly moving off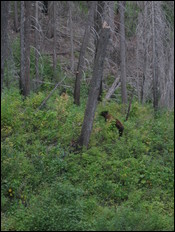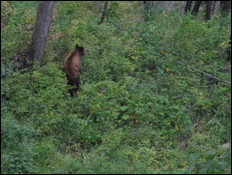 Still not off the mountain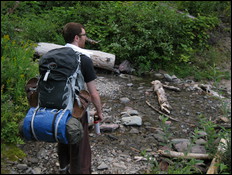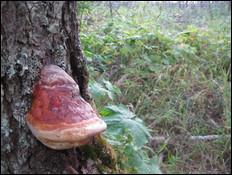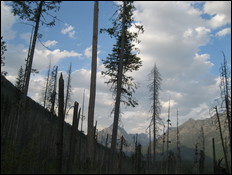 Burnt desolation and flowers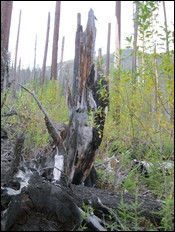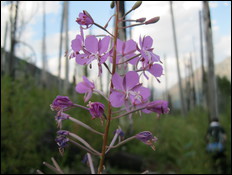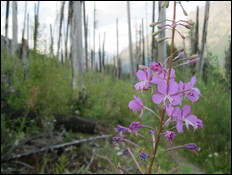 WE MADE IT BACK. Time to write something!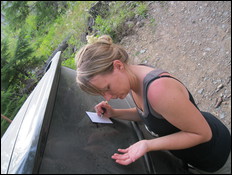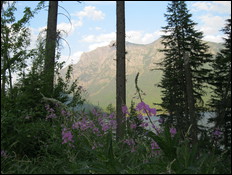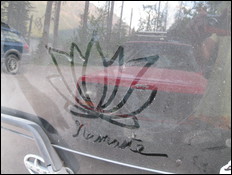 Fancy hiker hair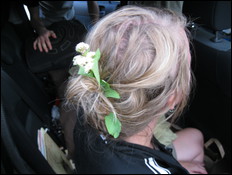 This one I was trying to take a self portrait of exhaustion and captured Amber in a moment of SERIOUS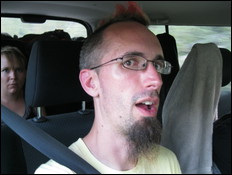 Okay, no really, we're happy…
Heading up the Going-to-the-Sun Highway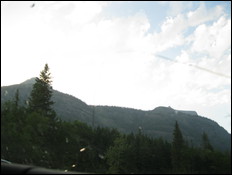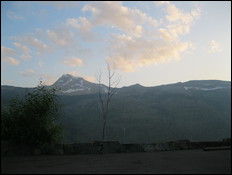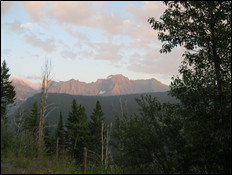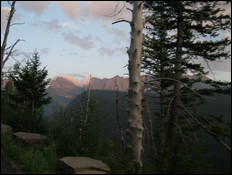 Blurs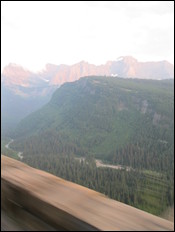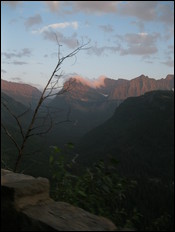 Ridiculous mountains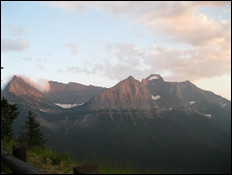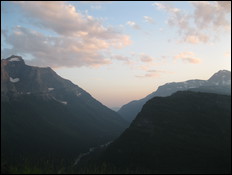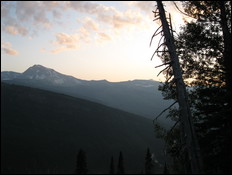 Ridiculous roads (and amateur white balance problems, these photos are actually chronological but they look like they are from different times of day because I have no idea what I'm doing)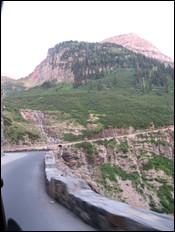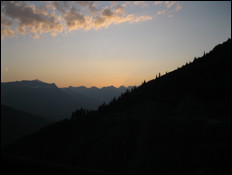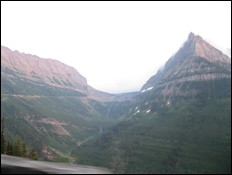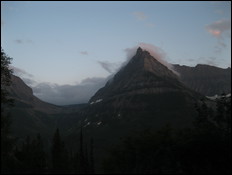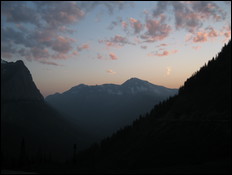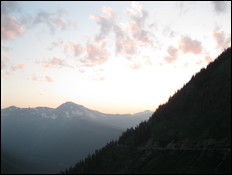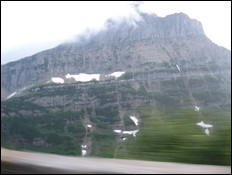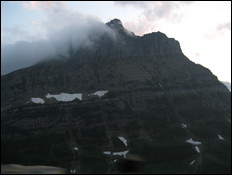 We had to catch some amazing mountain air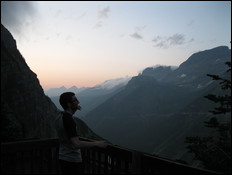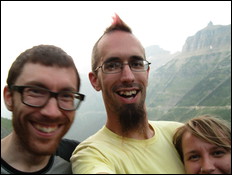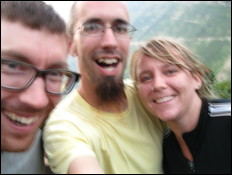 Can't capture the wonder of this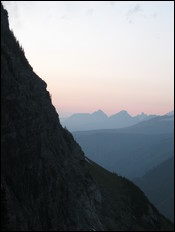 No campgrounds in Glacier are open, so it is time for the trusty towel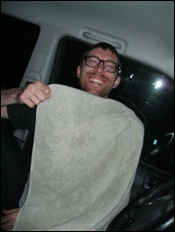 How not to sleep in a car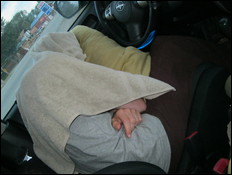 The Scion just keeps tickin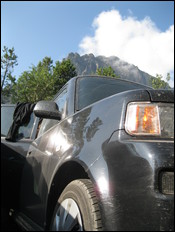 More hikes, this time up to Iceberg Lake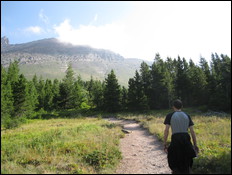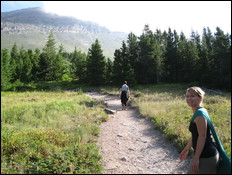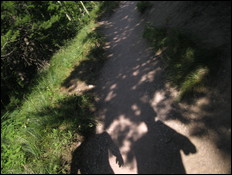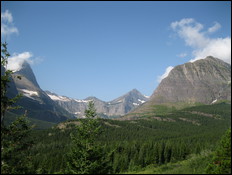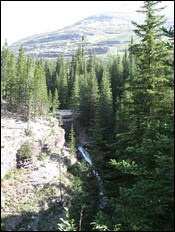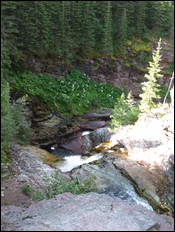 Warning: skinny white nerd chest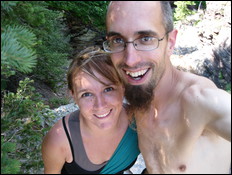 Scenic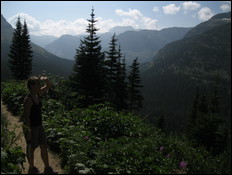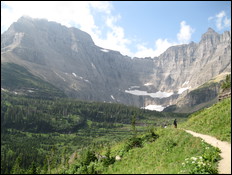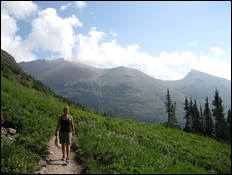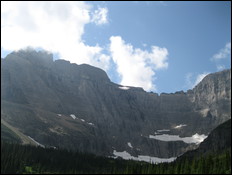 Wildflowers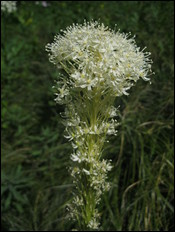 Walking into beauty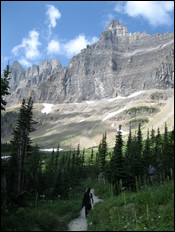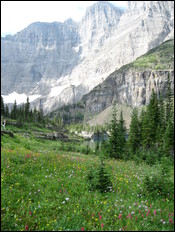 Crossing some snow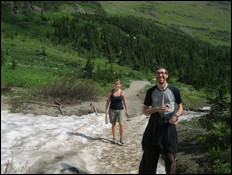 Then some shots standing in front of the mountain stream and pasture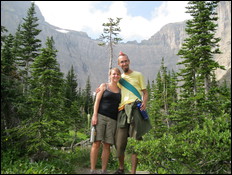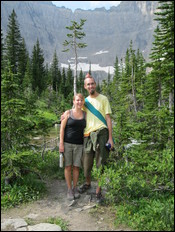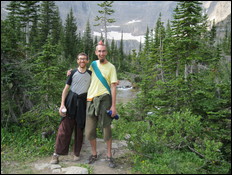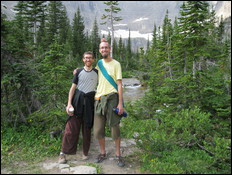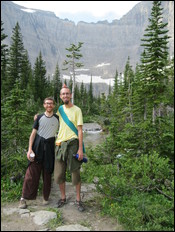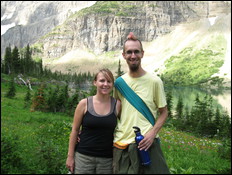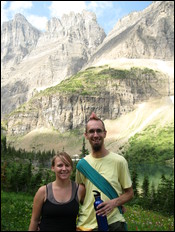 Seriously, we were standing RIGHT HERE. WHAT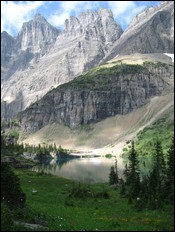 Flying up the mountain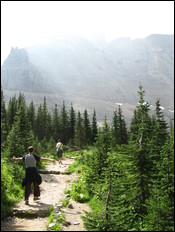 Rounding the corner to ICEBERG LAKE. They are not joking with the name: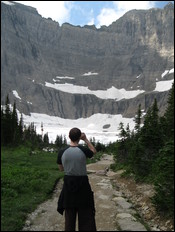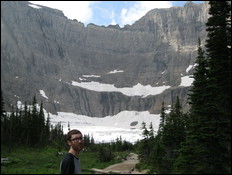 Cameras cannot capture it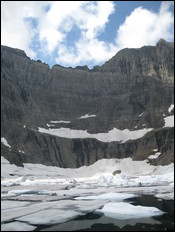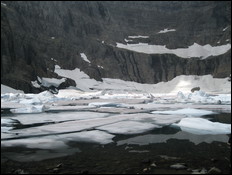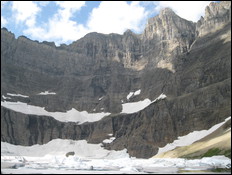 I waded in to grab some ice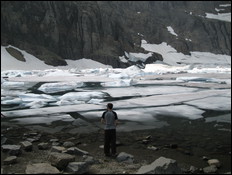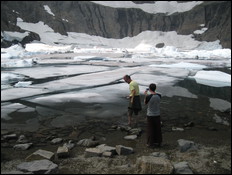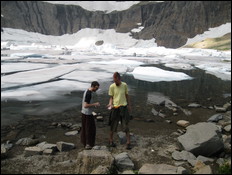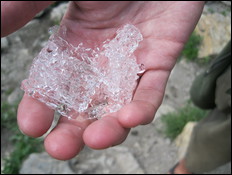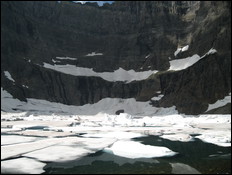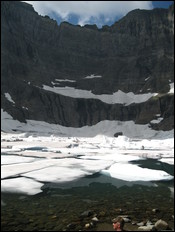 We ate lunch on a trail near the shore and got bothered by this little cutester who wanted our food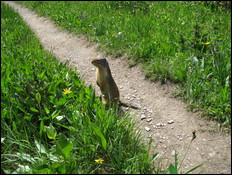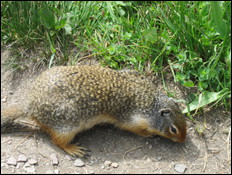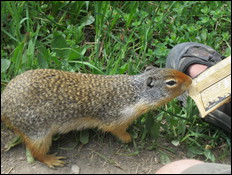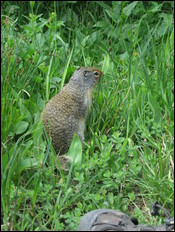 Cool.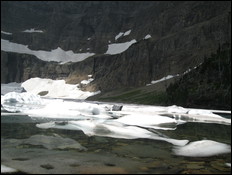 Sunlight in streams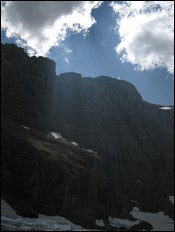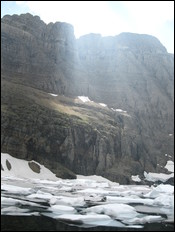 Writing by the ice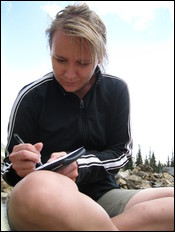 Jason is really pleased with this rock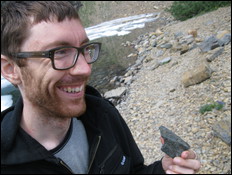 What it looks like if you don't look at the lake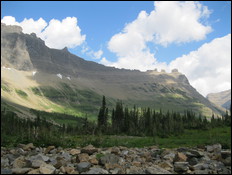 I decided to dunk my head in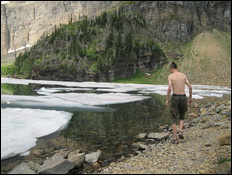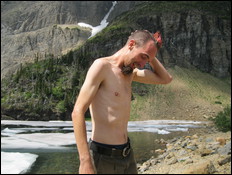 IT WAS COLD
---
Weird KOA "Tent Village" setup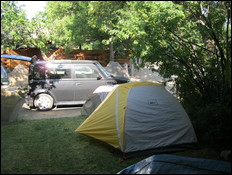 The "scenic view" past the trees at the Great Falls KOA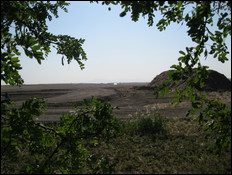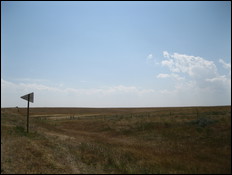 ---
Welcome to Roundup!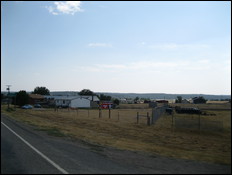 Butterbean is happy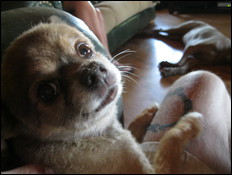 Dogs at the dog ranch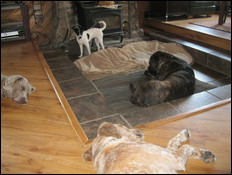 Surveying the fire damage at Sandy and Warren's ranch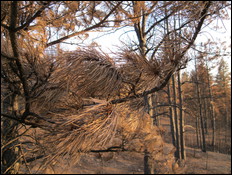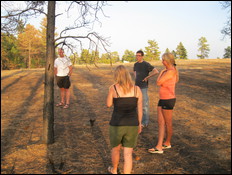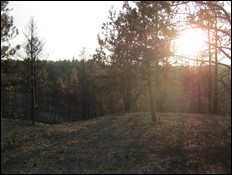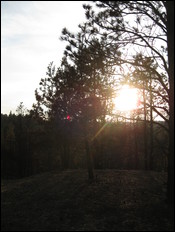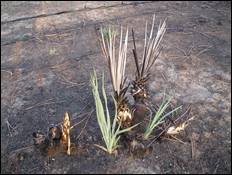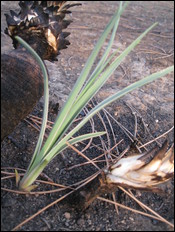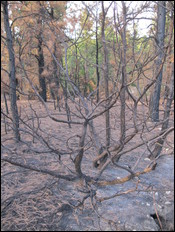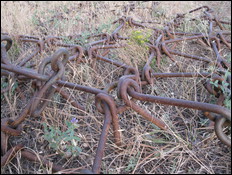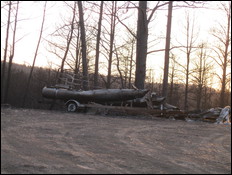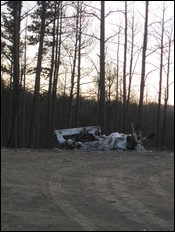 Sleeping bumblebee in the hollyhocks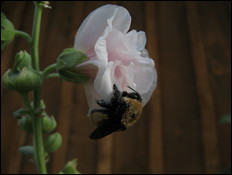 ---
Field of sunflowers in North Dakota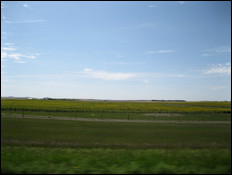 JET BUS SAYS: "Jets are hot! Drugs are not!" ????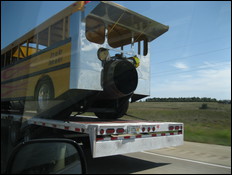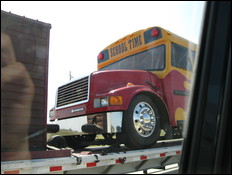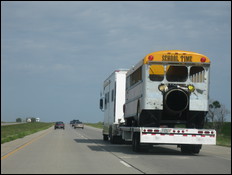 Passing five thousand miles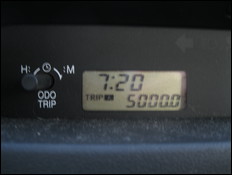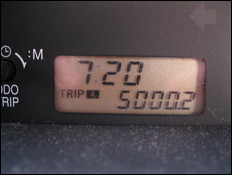 ICE CREAM TIME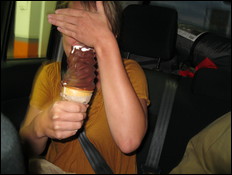 Abstract car sunset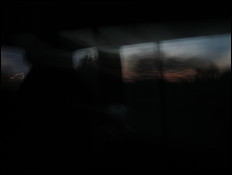 3AM: We're finally back in Madison with 5,470 miles under our belt. Plus about 50 more because we started the thing late.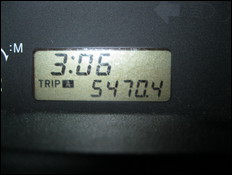 WHAT A TRIP. My head is still spinning.
---
Here are some unsorted uncommented photos from Jason also: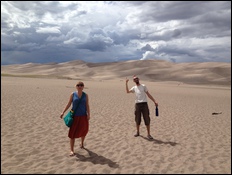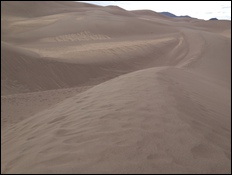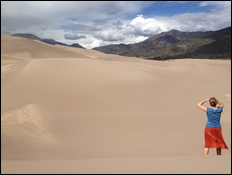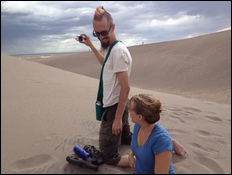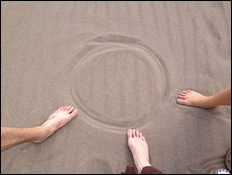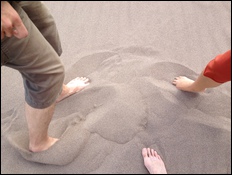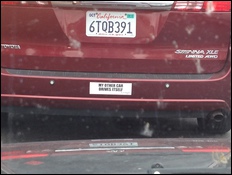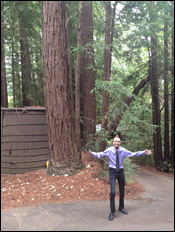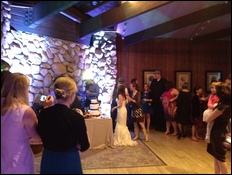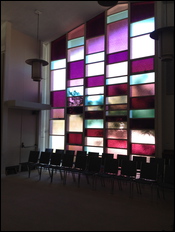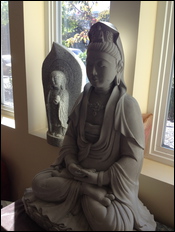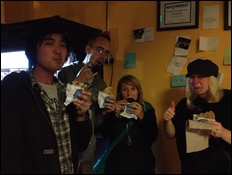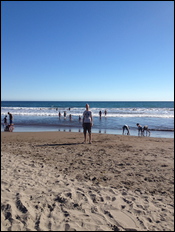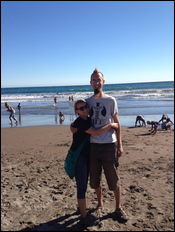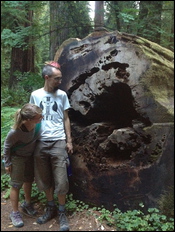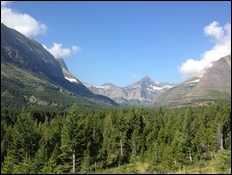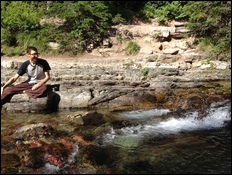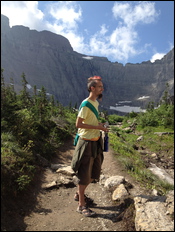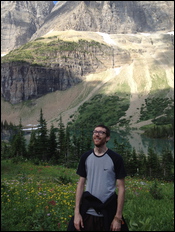 ---
categories: photos